How do you do, dear Mass++ users, as the COVID-19 epidemic continues? Wow, 2020 is coming to an end.
At the moment, the development of Mass++ has been done only in Japan, but we have been in a mess with COVID-19 from the beginning of this year as well as all over the world.
We had originally planned to hold a voluntary hackathon for development in Kyoto in April of this year.
However, some employees in the workplace of three of the developers tested positive for COVID-19, and the organization where the event was to be held at made a rule that "no offline meetings of any kind are allowed, even among family member; eating out with more than one person is prohibited; violation of rules will result in automatic suspension from work for two weeks" – making it impossible to hold a hackathon. So, we all ended up doing an online hackathon from home via Skype (I'm writing this right now in the middle of it… wow, I'm not hacking it at all :-P).
Now that 2020 has largely passed, I'd like to report on our activities for 2019.
The biggest highlight of 2019, of course, was that we…
Released the Ver.4 installer (a package that can be used immediately after downloading). (Bravo!!)
It's actually the alpha version, so we're going to tweak it and move on to the beta version (Oh, we could release the beta version in 2020…), but the developers (us) are patting ourselves on our backs, saying, "I'm glad it didn't fall down to a shouting match." (Well, I guess that's not good enough…)
Ver.4 Alpha was released on September 17. The only reason for this date was the poster presentation at HUPO World Congress (Human Proteome Organization) on the 17th and 18th (i.e., the two goals of "ver.4 installer release" and "poster presentation at HUPO World Congress" have been accomplished this year!).
So, let's get started with the HUPO poster presentation, as usual!
2019 announcements: ver.4 (alpha version) release
Adelaide!
In September, when HUPO was happening, we weren't aware of any major wildfires in Australia (we were more worried about the situation in Hong Kong, our flight stopover), as they hadn't become that serious yet. Fortunately, it never became a critical issue in Adelaide.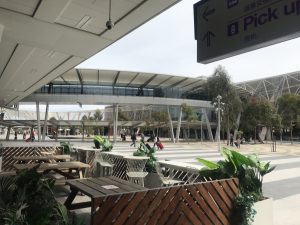 Airport. Not too many people, the scenery looked Europe-esque. The vegetation must be different, though. Plus, for me personally, this was my first time in the Southern Hemisphere!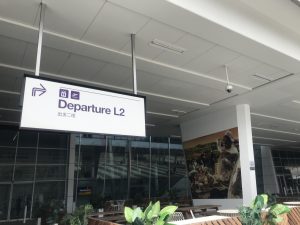 Simplified Chinese characters written together on the signboard. Looks like there are a lot of tourists here. A picture of a koala (not a mural) welcomes you. I guess Australia is famous for koalas, right?
# Come to think of it, I heard that at the airport in Vienna or Salzburg (Austria) there is a signboard that says, "No koalas here!" ; I guess everyone  gets it wrong.
The center of the city is surrounded by greenery, and it's a quite urban city with a calm atmosphere. Outside of the green area, there is a residential area and the airport is located near the port.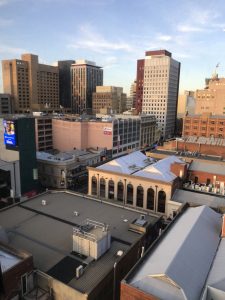 We booked a hotel in the center of the city, and this is the view from our hotel window.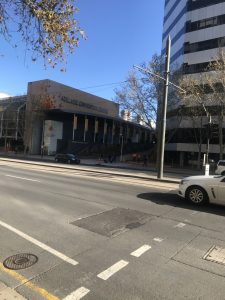 Yes, we are approaching the Adelaide Convention Centre, the venue (this is not actually a picture of the first day). Look at the amazing blue sky!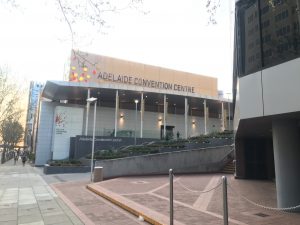 Here we are across the crosswalk and in front of the Convention Center (this is the picture I took on my first day of arrival).
In fact, I took this photo with my iPhone upside down to partake in the  fossilized joke that Australians I'm sure are already sick of: "On the other side of the world, we're all standing upside down, after all! I tried to do that, but when I took the picture, I realized my iPhone auto-corrected it.
#Don't make boring jokes…
A little closer.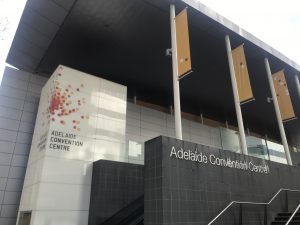 There's a human-shaped design around the letters of "Convention Centre." That's fine art. In addition, since the country is a member of the British Commonwealth, it is naturally spelled in the British style (Centre, not Center).
Now, about the venue…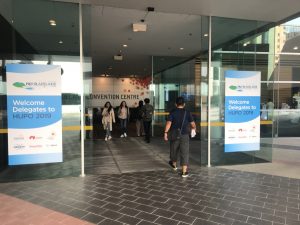 This is the entrance area of the building. It just so happened that all the people in this photo were Asian. There were quite a lot of Asian delegates here (well, it's partly because it's an international conference hall).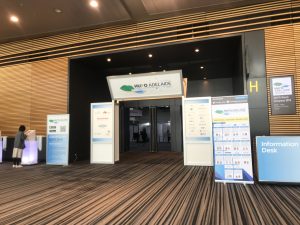 On the other hand, this is the entrance to the poster hall. It's just like an international conference, nothing too special about it.
Here's the poster of Mass++, this is the photo just after we put the poster up in the morning: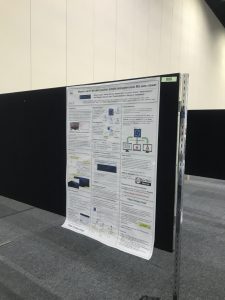 What? You don't see any other posters? That's right, well, people don't put up their posters on schedule – maybe it's because they don't put that much effort into their poster sessions compared to ASMS (the American Society for Mass Spectrometry, where we presented a poster last year).
In fact, the poster next to mine (I had another poster of my own) didn't seem to have a presenter present during the session at all. Unlike ASMS, HUPO is mainly oral presentations and posters are treated as "extras" (and it seems that people who "know each other" tend to stick together!). As a result, unfortunately, there seemed to be almost no visitors at the Mass++ poster during the session time (except for people we know!). .
This time it was not so hard work on the poster presentation itself, but the final process of finishing the package to "make it ready for the poster"… two of the developers were in Adelaide and two in Japan, and we had a series of discussion on Slack. We created the Windows version in Adelaide, the Mac version in Kyoto and uploaded them to the server (it helped that unlike Europe and the US, there is only a one-hour time difference between Australia and Japan!).
So that's it, in a nutshell, that's Adelaide's… what? You haven't seen the meals we ate yet? Oh, I knew we needed to talk about that… (Fine, no one ever said that…)
OK, so I'm just going to take a minute(?). Here's a summary of some food and other things to do in Adelaide!
…We'd like to disclose, that participating in an international conference is sort of like attending a "festival", so we're having a very "successful" meal (we did the same thing in San Diego…). This is the first meal we had after arriving at the conference on the first day.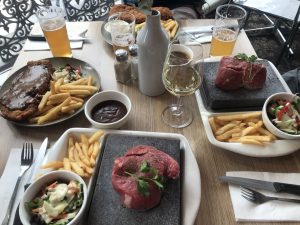 There is a restaurant on the second floor of the hotel across the street. Yes, one pound of rump and stone-grilled steak and sandal-sized schnitzel with demi-glace sauce. By the way, two of the four people who had lunch here are Mass++ development members, and of course they are the ones who ordered the steaks. Yes, I knew it. (What am I saying?)
By the way, Adelaide is famous for grapes, especially Riesling, and I'm a passionate fan of Riesling. Riesling is the best! With Schnitzel and Riesling, you get the sense that there's a bit of German culture in the area (Hahndorf in the Adelaide Hills next to Adelaide is said to be the oldest German settlement in Australia).
So I just looked at my iPhone and found a bunch of pictures of steaks, but here's a different and interesting one.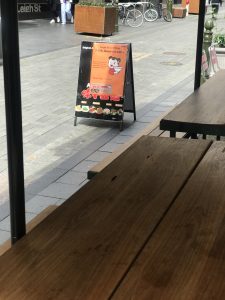 This is Ajisen Ramen, right? …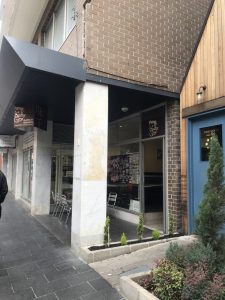 Right. It says "AJISEN RAMEN".
Ajisen Ramen is a ramen joint from Kumamoto and was originally founded by an overseas Chinese Hakka (oh, Keika Ramen is also a group company …), so I wonder if that's why they have the vitality to expand overseas. But the question is, do they serve the same menu as they do in Japan?
Yes, this was posted next to the entrance of the restaurant. This is the menu with pictures. Wow, they also offer a bento menu. Dishes look ordinary, but look at the bottom right. It's in English and Japanese.
Tori Karaage Bento
O fried chicken bento
It's called "Tori Karaage" in Japanese.
It says "Karaage" in English, and it's not even "Chicken Karaage", it's "Tori Karaage" (both "tori" and "karaage" are Japanese words), so why is it "fried chicken" in Japanese? 
I thought I'd regret it forever if I didn't go in (I might regret it forever if I did), so I went in and ordered the first dish that caught my eye. This: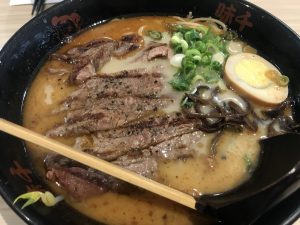 Wow, it's got steak in it instead of char siu.
Oh no, steak again…
By the way, I ate it and didn't regret it for the rest of my life. Maybe I don't want to try it many times. Maybe it's a great way to appeal to Australians who are used to eating steak…
We were eating and the main developer of certain very famous software sat at the table next to us, that's a secret. 🙂 
Um, we're talking about non-steak foods. I went in here too:.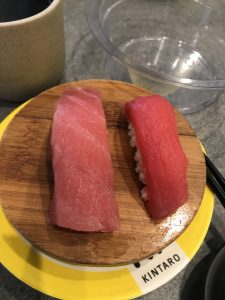 Yeah, tuna is universal. It's delicious. The rice is okay too. But it's not like "kaiten-zushi" (sushi-go-round) in Japan where they offer free tea, and I was very surprised that they charged me about 4AUD per cup. (By the way, apparently in Australia it's called Sushi Train.)
They hac the same pickled ginger packs with the message that "You can cut it from anywhere on this side" (in Japanese!), which is familiar with the sushi sold in supermarkets in Japan.
It employed the same system as in Japan with a different price for each plate color.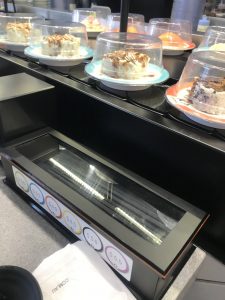 But I've never seen anything like this in Japan.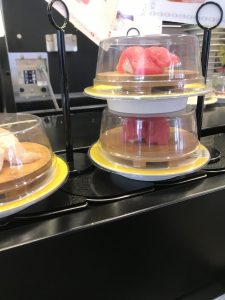 Well, I guess it's okay.
But as expected, I couldn't eat this one…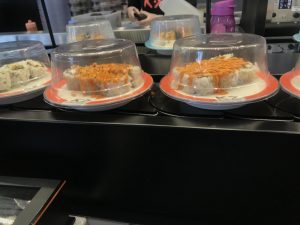 When we were checking out, the lady at the checkout counter said "ARIGATO". I guess she knew we were Japanese.
Well, we took Cathay from Japan (with Hong Kong just as tense via the way – so we didn't leave the airport), but there is a direct flight to Adelaide via Hong Kong every two days, so we had more than half a day to spare on our return day. So, we took a quick peek at the city center and the zoo, just for a bit.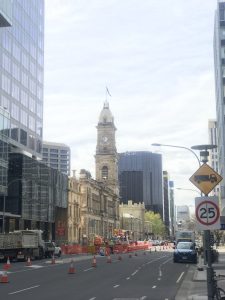 The center of the city. Modern buildings and churches, another common sight in Europe and America, but…oh yeah. The British Commonwealth. The left side of the road.
And close by was: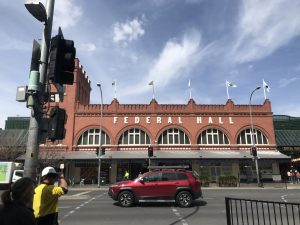 The Central Market.
There was a series of shops to choose from, but I only had one picture.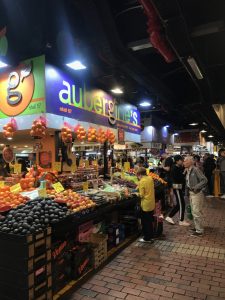 This is a fruit and vegetable store. The colors are amazing. I wanted to buy some to take home, but fruits are not allowed to be brought into our country (for the quarantine problem).
Now on this day, we went into a Vietnamese restaurant somewhat near the market.
Pho (just like char siu noodles, but it's pho, not ramen).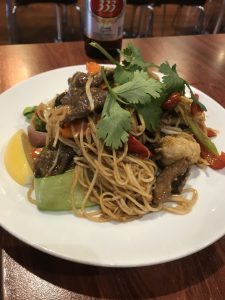 Yaki soba noodles? (it's not Chinese…)
Mixed fried rice. This was delicious. It's perfect for indica rice. But still, it's not Chinese…
We also ate other dishes, but we were surprised to see that many of them were spicy (not salty, but hot spicy). I always thought that Japanese and Vietnamese food were the exceptions to the Asian food being spicy. Maybe it depends on the region, or maybe it's just to suit the tastes of Australian customers. The number of Asian immigrants in Australia seems to have increased since the Vietnam War, so it may be that there is a generational difference in taste preferences?
Overall, my impression was that there were a lot of Asian residents and a lot of Asian restaurants.
#There was a restaurant called "SHOBOSHO" right next to the hotel;  "Shobosho?" (it means fire station in Japanese) Why fire station? I googled it and found out that it was an Oden (Japanese version of pot-au-feu) shop. Is it really a fire station? Why a fire station…?
Now, let's run through the "highlights" of the Adelaide Zoo.
Of course, first of all, if you come to Australia, this is the guy to see.
Koala.
In Adelaide Hills, the next town over, there's a place that lets you hold a koala, but no, I don't need need that experience. On the other hand, this koala has been up in the trees for a long time and didn't seem to care about humans. 🙂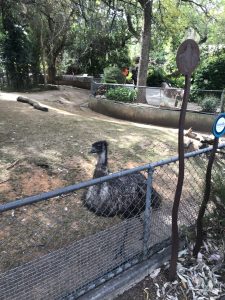 Here's an emu, famous as a flightless bird. Instead, it seems to run around, and it is difficult to take a picture because it moves too fast. If this thing could fly, the fecal damage would be disastrous…just saying.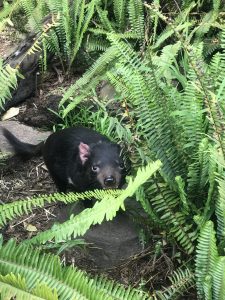 The Tasmanian Devil, which I had heard so much about in name only, was this kind of seemingly lovable dog-like creature (its fangs look like double teeth…). But in fact, after the extinction of the Tasmanian tiger, the Tasmanian devil was the world's largest carnivorous marsupial, scavenging for carrion and roaring like a liver crusher, hence the name Devil. However, they are always cowardly towards "opponents larger than themselves", and so they seem to be quiet even towards humans.
In addition, I heard that a "contagious cancer" called "Devil Facial Tumour Disease" is spreading among Tasmanian Devils now, and there was a notice about it.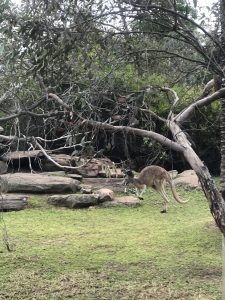 There's another guy …
Or someone like this …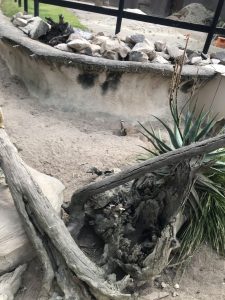 And this guy …
And this guy running around…
But the biggest highlight of this Adelaide Zoo weren't the koalas and emus and all the other animals that Australians can see anytime.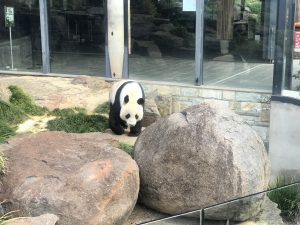 It seems to be this guy who was loaned from China.
Oh, I haven't seen a giant panda in person since I saw one at the Ueno Zoo …
Extra photo. I was thirsty after walking around so much, so I looked at the vending machine outside the zoo, and I wondered what the price was (although at the kiosk inside the zoo, it was priced at 5 AUD or something more incomprehensible). Rather, are they selling them dirt cheap in Japan to make them more popular?
I was surprised on my way home, but at Adelaide International Airport, after going through the security check and entering the security zone, there was another check before I reached the international flight departure gate. I've never experienced this at any other airport in the world.Because ofthis, when we were eating snacks, feeling relieved that the security checks were over, we were delayedat the second security check and our names got called at the gate, which was a first time experience for me (Mr. B, the main developer of Mass++, somehow got stuck and almost missed our flight…I think he was the last passenger on the plane).
Be careful  everyone when returning from Adelaide!
Announced results for 2019: Others 
Now, the release of ver.4 alpha and this one here in Adelaide were the only publicly published and announced topics in 2019 (and I used a looooot of pages talking about them…). We're also working on other manuscripts, but our publishing schedule is after 2019. I'll get back to you about those in my next report.
Plans for development and publication in 2020
We plan to continue development of ver.4 in 2020. Our goal is to be able to complete the whole process of proteome analysis on Mass++. At the same time, we need to improve the usability of the software in addition to bug fixes.
Also, following the concept of "Linked Open Data", we believe that supporting RDF (Resource Description Framework), which has recently been adopted by public databases, will make it easier to deal with data repositories and the like, and we are investigating into it (it is not clear whether we will be able to implement this by the end of 2020).
As for the announcement, as we had fantasized last year, we had submitted the poster again at ASMS this year… but the ASMS offline conference (in Houston) was cancelled, so we hope to present it at the online conference instead.
Also, as to whether we'll be presenting at HUPO following 2019, this year's conference was scheduled to be held in Stockholm in October, so we'll were asking, "would the COVID-10 pandemic be completely leveled out in October in Europe?" Very questionable and we are watching the situation closely to see if the conference will be canceled there as well (as a matter of fact, we ended up not participating as the conference was held on-line). 
This is the second time I've reported on our activities since last year (much more on food and other things, I know). I hope we can get to ver.4 final beta by the end of 2020.